It's happening!
Sure 'nough it's happening!
We had one final game of volleyball left and we WON! I say "we",
but really it's Maddie and all the other volley girls.
It's been a good season, and we've made lots of new friends,
but I'm sure glad it's over and ended on such a great note.
My calendar and all the ink the that was involved will have time to cool down before the next sport.
Did I say the NEXT sport? Lord, Help Me!
Not only did we have the last week for volleyball, but Mr. D had his final 18 hour shift. It's been a financial blessing, but I'm so happy it's done!!! All of the hustle and bustle made it feel like October flew by.
Didn't we have leaves on the trees a few days ago?
What happened to all the color?
I blinked and it's already faded away.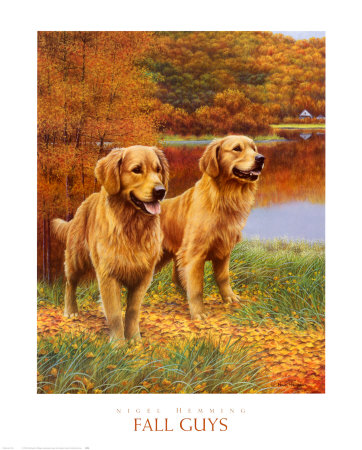 Found this picture when I was hunting for fall photos.
"I'll take two golden retrievers with a side of fall please."
The girls and I have it all planned out.
We'll get a boy and a girl, name them
Miss Penny and Mr. Pickles,
and live happily ever after.
Woof! Woof!
With more free time I've been able to put more things in the shop! I dusted a few cobwebs off the virtual doorway into my Etsy store and added a few more ring pincushions and a new garland. More items are in production as we speak.
This little gal didn't have a chance.
She was sold in just a couple hours.
THANKS JESS!
How bout this little fella?
Be prepared for a plethora of reds, pinks and cozy primitives.
The big news in the shop are the fantastical international sales. I want to give a big shout out to
who will be having little pincushions that were made back home in Indiana,
with my very own hands.
Mr. D and I have needed a little getaway time, and we took advantage of the lighter schedule to take a little vacation last weekend.
A weekend without said two finger boy and his minions..."The Girlies"
Love them, we do, but it's always good to have some time away.
We toured around Indy for most of the day on Friday and then headed to Cincinnati where we hit the closest IKEA store.
Just give me one of those living rooms and a bowl of Swedish meatballs and I'd be happy as a clam.
Yep, I do think I could live there quite happily.
I would love to have this hanging somewhere in my house.
It's impractical and I'm sure it's a pain to clean,
but OOO LA LA, it's pretty!
This sweet thang, however, did come home with us.
It's very practical and useful, but ours is in a soft pinky color.
Perfect for my work area.
We headed home late Saturday night so that we would be able to go to church Sunday morning and take a couple of house tours.
One complete curveball opportunity that has just popped up is renting space in an old school house and having access to the grounds for chickens and gardens.
I know it sounds way out there and strange, but we are the unconventional types and we do like a good adventure.
All I can say to that is..."We'll see."